Turkish Technical Translation Services
Award-winning, experienced Turkish technical translation services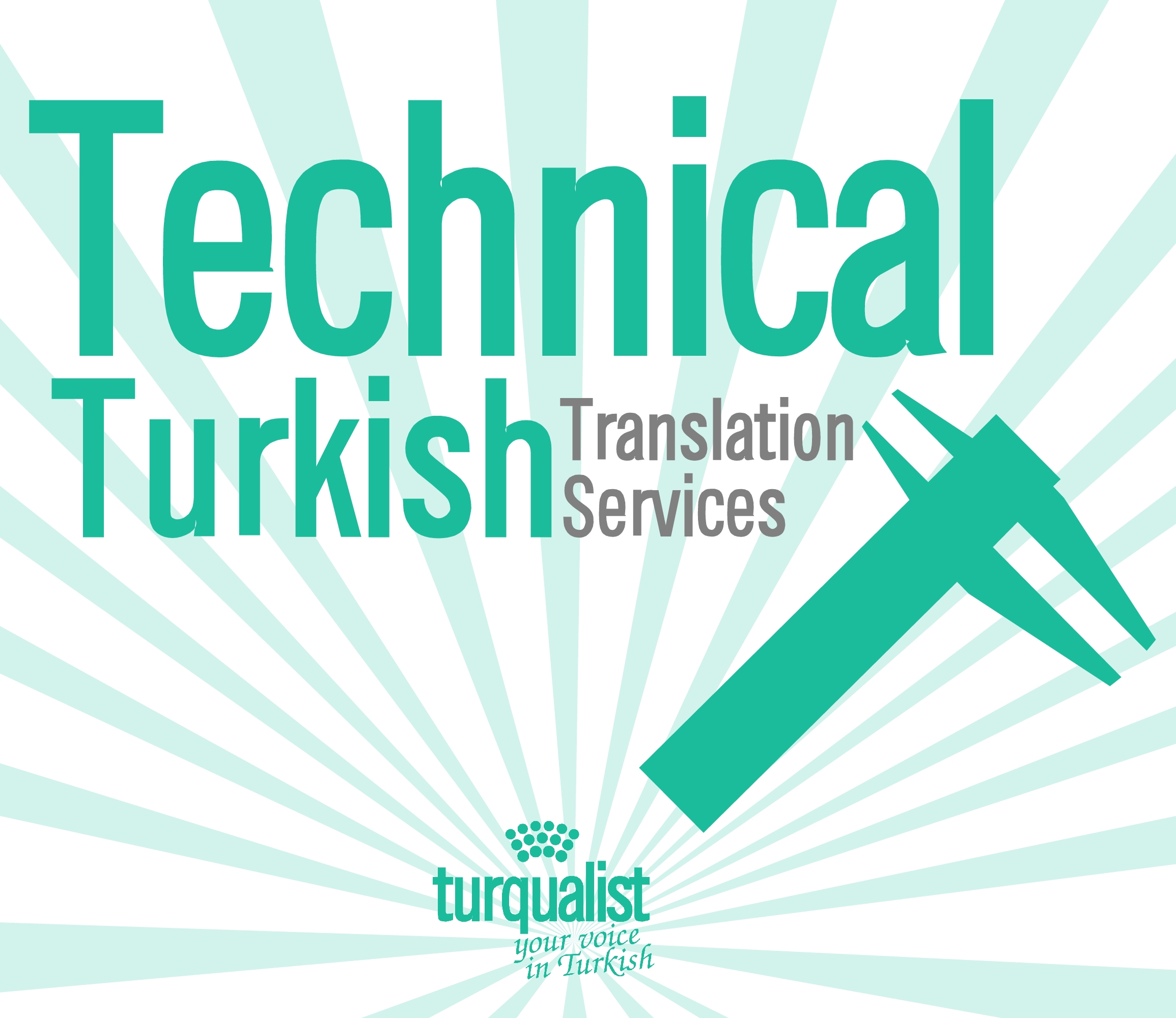 Turqualist is an intelligent, energetic and ambitious Turkish technical translation services solution partner in the world and with strong extent of business over Europe, Asia and Americas. We supply exceptional Turkish technical translation services in order to help our clients contact with the Turkish marketplace. Our stellar team of Turkish linguists in the technical domain have broad skill in versatile disciplines of technical fields.
To render perfect technical translation service from and into Turkish for our global clients, we purely and simply use talented Turkish language professionals with elaborate subject field competence and a perfect insight of local technical terminology. Our brilliant Turkish translators are designated for their diligent practice of the technical terminology and have native fluency in the target language. At Turqualist, we assist businesses of of all sizes and fields succeed in achieving the Turkish audiences using our customized Turkish language services.
Call us today at
+00-90-212-385-0092

or Email us at

info@turqualist.com

Are you looking for a native experienced Turkish translators to work with you on translating
your technical documents into Turkish on a regular basis? We can help you get your documents translated and delivered
on-time and to the highest quality available. Get a quote
Distinction in the international Turkish translation world is the most powerful pitch winner for us. Turqualist's Turkish translation services have surely been the perfect impression we could present. As Turqualist, we are a splendid brand and we have a frame of mind, we serve something. And that 'something' is Turkish translation service.
Expert Technical Translation to Turkish
Our tailored Turkish technical translations connect businesses
Turqualist is a first-class supplier of technical translations to Turkish. We have provided Turkish language services for the technical industry since 2005, building ideal cooperations with well-known international brands. We are accepted as Turkish translators within the technical branch of industry and we pride ourselves on working with leading global clients across the world on diverse Turkish translation projects of the industry's demands. Wide experience in technical translation to or from Turkish has provided Turqualist with complete skills of the industry's requirements.
All our Turkish translation experts are drafted for projects subject to your particular requests. They only translate into their native Turkish language to assure your translations read naturally and transmit your material as if you had penned them yourself.
We fairly appreciate that, as you remember a piece of our definitely valuable translation service, a great piece of service looks completely simple. It's explicit, in that it is well-placed for the customers. Although it may utterly sound like plain, reaching this place asks for work, preservance, diligence, wisdom and, obviously, that thing value produces: proficiency.
We have gained extensive experience in translating materials like bid documentation, RFI's/RFQ's/ITT, data sheets, EMC reports, engineering specifications, EU declarations of conformity, in-car entertainment user interfaces, industrial equipment, installation instructions, manuals and user documentation, manufacturer information, manufacturing and technical manuals, OEM manuals, patents, product catalogue, regulatory documents, safety reports, service manuals, system requirement documents, technical brochures, technical documentation, technical drawings, technical manuals, technical patents & reports, technical training material, tender documents, e-learning materials, user manuals, users guides and more.
Turkish Technical Translation Services
Outstanding companies communicate in the language of their potential audience
Turkish translation service is a very wonderful asset available to you when your enterprise intends to succeed in Turkey. With Turqualist, your Turkish translation order will be carried out by a careful Turkish linguist who is well-versed in the source and target languages of your material and at the same time, is expert in the technical area.
World is getting notably global. Business opportunities in Turkey are truly larger, yet the impediments for taking your messages into Turkish are considerably difficult after different meanings in Turkish speaking markets across the globe. For this reason, you must find a Turkish translation solutions partner who distinguishes how Turkish sets into your projects.
The most preferred Turkish LSP
Our knowledge in professional Turkish technical translation is the most preferred, so reach us now to learn in which way we can assist you overcome Turkish language impediments between your business and your target clients.
Smart Educated Background
Turqualist's translation into Turkish are relied upon by some of the largest brand names worldwide. Our Turkish translators not only comprehend the technical industry, they at the same time have smart educated backgrounds in helping companies and individuals.
Rapid Translation to Turkish
We have the power to provide rapid translation services to or from Turkish and impressive supply for your instant Turkish translation tasks and can keep pace with almost any time limit, no matter how narrow.
Who trust our Turkish technical translation services?
For further details in regard to our efficient technical Turkish translations and interpreting services, connect with Turqualist by sending an email to us or complete the price quote form and we'll answer in 30 minutes!
Technical Translation Services from and to Turkish
Your chosen, professional Turkish translation services agency and trusty worldwide Turkish technical translation partner
Turqualist is a Turkish technical translation services solution company with an impeccable distinction globally. Do you want your company to thrive in the Turkish markets? Making your presence felt in Turkish speaking marketplaces will furnish the benefits you desire. At Turqualist, our Turkish technical translation craft can compel your international presence toward impressive and new extents. Assuming your enterprise has by this time a footprint in Turkish speaking marketplaces, you may very likely be coping with tasks in Turkish language. So, it is essential for the sustainability of your company profits that your selected Turkish translation partner has ability to evoke appropriate practice and specialism in the Turkish technical field. Provided your enterprise is looking to grow into the Turkish marketplaces, there will possibly be hard times that Turqualist's technical translations to and from Turkish can assist you to overcome.
Our translation services to or from Turkish are made by a high-ranking team of skilled, and highly-trained Turkish language professionals. Some of the largest technical companies trust us to assist them in excelling the hard times in expanding their business in the Turkish marketplace.
With proven experience in translation services to and from Turkish, it's little wonder we're the decision for our global clients appearing in a huge array of industry fields. Find out why we are the preferable Turkish LSP for well-established businesses for accurate, clever technical translations from and into Turkish, assisted by stringently selected and excellent technical Turkish linguists in the industry.