Turkish Translations for the Retail Industry
Retail and Consumer Translation Services in Turkish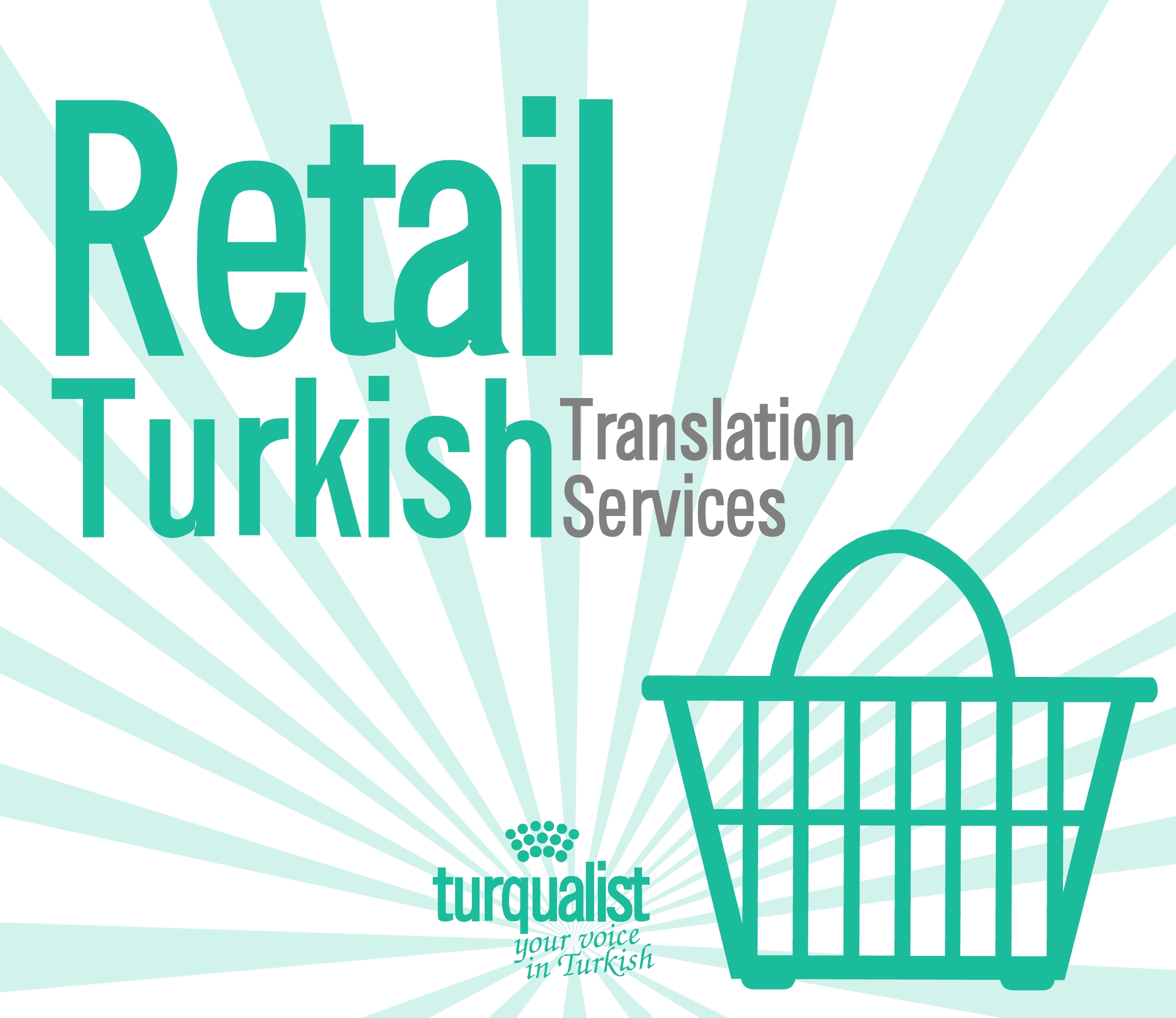 Translation to Turkish is a very useful asset available to you when your business aims to succeed in the Turkish market. Turqualist is an intelligent, motivated and ambitious Turkish translation solutions company globally and with robust existence across Europe and Americas.
Our Turkish linguists not only understand the retail sector, they also have competent excellent qualifications in helping industries. With Turqualist, your Turkish translation will be completed by a talented Turkish translator who is proficient in the original and destination languages of your material and is specialized in the retail and consumer industry.
Call us today at
+00-90-212-385-0092

or Email us at

info@turqualist.com

If your company is currently looking for professional, experienced Turkish translators and editors
specializing in the retail sector, we can assist you. Get a quote
Turqualist's knowledge in Turkish translation, localization and interpreting services is the finest, then contact us now to discover how we can help you break down Turkish language obstacles in between your brand and your target customers.
Translation services for the retail sector
Years of experience in Turkish retail translation
We are a Turkish translation solution provider company with a professional reputation across the globe. We have delivered Turkish translation services for the retail industry for many years, establishing mutually beneficial cooperations with valuable brands. Turqualist is recognized as Turkish translation professionals within the consumer and retail business area and we pride ourselves on working with leading global clientele all around the world in diverse Turkish translation projects in this industry sector.
Do you need your business to display in the Turkish marketplaces? A business footprint in Turkish speaking marketplaces will give the earnings you pursue. Our Turkish retail translation proficiency can compel your local existence into stimulating and undiscovered lands. Assuming your business has a presence in Turkish speaking markets, it may doubtless be managing projects in Turkish. As a consequence, it is extremely significant for the preservation of your business interests that your preferred Turkish translation company can manage to raise solid knowledge for the Turkish retail sector of industry. In case your enterprise is watching to penetrate in Turkish speaking marketplaces, there will possibly be challenges that Turqualist's retail translation services from and into Turkish can serve your company to overcome.
Turqualist is a perfect supplier of translation services from and to Turkish. Our translation and localization services to or from Turkish are finalized by a powerful group of competent, and renowned Turkish translators.
Retail Translation Services to Turkish
Turkish translations perfectly suited to the retail industry
The leading global retail sector companies believe us to support them in excelling the clutches of expanding their business in the Turkish market. We have a wealth of knowledge in translating documents like brochures, catalogues, after-sale materials, product care instructions, product specification sheets, in-store promotional & marketing materials, product and packaging, sales materials and related online resources, assembly and user instructions, in-store displays and signage, coupons, patents, demo videos, human resources materials, and many more.
With proven track record in translations into Turkish, it's no wonder that Turqualist is the choice for international brands showing up in a diverse array of retail and consumer industry sector.
Specialized Turkish Linguists
All our Turkish linguists are picked for Turkish translation projects subject to your particular needs. They exclusively work into their mother tongue language to ensure your translated documents read naturally and transfer your information as if you had produced them yourself.
intelligence of sector terminology
To render accurate retail translation service to Turkish to our numerous customers' projects, we solely assign specialized Turkish language professionals with elaborate subject matter of knowledge and a thorough intelligence of consumer and retail sector terminology.
Proven past performance
Our prominent team of Turkish translators in the retail line of business have comprehensive practice in various subject areas of this sector. Proven past performance in retail translation from and to Turkish has given Turqualist complete awareness of the industry's facts.
Who trust our Turkish translation services in the retail industry?
Discover why Turqualist is the picked Turkish translation partner of well-established brands for meticulous, quick retail translation services to and from Turkish, backed by well handpicked and qualified Turkish professionals in this sector.
Retail and Consumer Translation Services to and from Turkish
Turkish Retail Translations that drives results for leading brands
Turqualist backs up well-known international consumer and retail sector brands reach out to the Turkish marketplace and thousands of prospective customers by translating their promotional messages from or into Turkish. Our Turkish linguists are selected for their deep expertise of the special terminology and have native fluency in the target language. We supply exceptional language services to serve you contact with the Turkish market.
We support businesses of no matter how large or small make contact with the Turkish target audience through our first-rate Turkish translations. Our translation service from and to Turkish are relied upon by the big-league brands worldwide. We have the power to provide faster translation to or from Turkish and swift turnaround for your urgent job orders and can keep pace with practically any deadline, no matter how narrow.
For more details in reference to our brilliant retail Turkish translation service, reach Turqualist by sending an email to info@turqualist.com or fill in the price quote form and we'll get back in 30 minutes.