Turkish Aviation Translation
Choice Turkish translation services provider to give a boost to your business achieve the most promising targets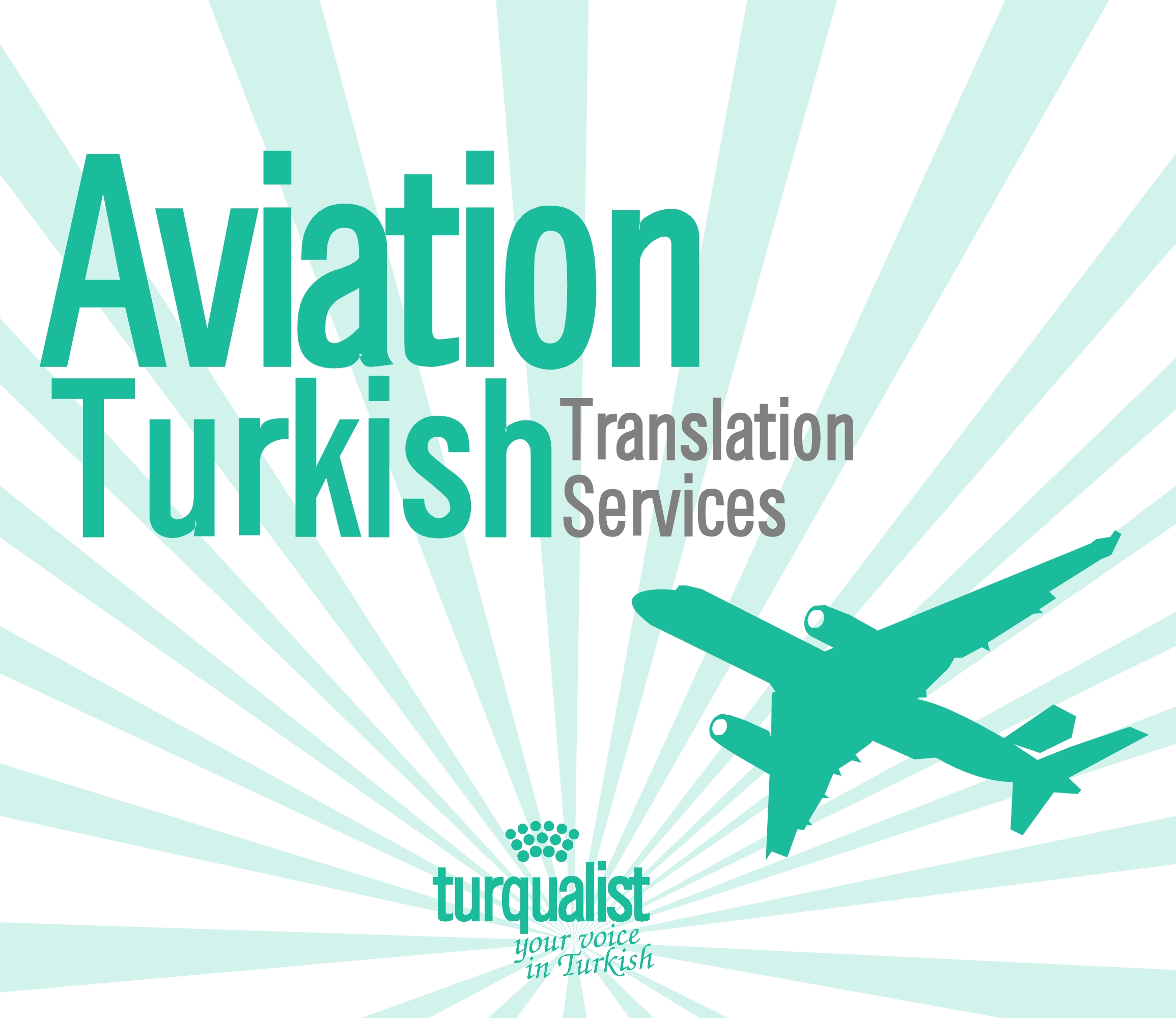 Turqualist has delivered Turkish translations for the aviation industry for many years, building respectful collaborations with larger clients. We are accepted as reliable Turkish translation specialists for the aviation business field and we have the pleasure of working with well-known international customers across the world on varied strictly correct Turkish translation jobs in this sector. Our Turkish language professionals are drafted for their comprehensive perception of the specific terminology and are native to the Turkish language quite guaranteeing more accurate works.
The valuable aviation firms depend upon Turqualist to give a boost to them in overcoming the hard times in entering into the Turkish market. Years of experience in accurate and complete aviation translations to and from Turkish has provided us with in-depth expertise of the industry's needs. We are an able, motivated and noble Turkish language service solutions partner across the globe and with powerful appearance over the USA. We supply a broad array of exact and accurate Turkish translation services to assist our customers communicate with new opportunities in Turkey.
Call us today at
+00-90-212-385-0092

or Email us at

info@turqualist.com

Your chosen, admirably precise and clear Turkish translation services company and knowledgeable worldwide Turkish language services supplier

Get a quote
Reputation in the international Turkish translation market is the strongest pitch winner to us. Our Turkish translation services have quite been the greatest identification tag we can present. As Turqualist, we support the leading global aviation business firms keep in touch with the Turkish market and millions of new customers by conveying their commercial message from or into Turkish.
Turkish Translators for the Aviation Sector
Turqualist's exact and accurate professional Turkish translation services connect businesses
Our world is turning into exceedingly universal. Opportunities in Turkey are indeed increased, all the same the obstacles for carrying your communications into Turkish are increasingly severe because of diversified characteristics in Turkish speaking marketplaces in the world. Accordingly, you must find a Turkish language services solution partner who ascertains how Turkish goes with your project. At Turqualist, we back up customers of no matter how big or small reach the Turkish readers through our correct, graceful and elegant Turkish translation and localization services.
Turqualist is a Turkish translation providing partner with a splendid reputation all over the world. Our Turkish well-known and successful linguists not only have an understanding in the aviation sector of industry, they likewise have powerful skilled practices in taking care of businesses and individuals. All our elegant Turkish translators are drafted for tasks considering your personalized needs. They solely translate into their mother tongue language to guarantee your translations feel like original and succeed in conveying your information as you had typed them yourself. Turqualist gained awesome experience and specialism in translating written content such as Agreements and Bids, Aircraft Drawings, Aircraft Logbooks, Airline Advertisement, Airline Magazines, Airplane and Aircrew Security, Airworthiness Directives, Audio-Visual Campaigns, Contracts, Crew and Cabin Training Materials, Dispatch and MEL Procedures, Engineering Change Orders, Entertainment Multimedia Interface, Entertainment Multimedia Subtitles, Flight Safety Magazine Articles, Flight Simulators, Flight Training, Freight Documentation, Internet Promotion Campaigns, Licenses, Maintenance Manuals, Marketing Translation of Technology Briefs, Operating Manuals, Passenger Safety Pages, Professional Development Program, Regulations and Compliance, Regulations for Cabin Safety, Regulatory Consulting for Foreign Markets, Repair Station Manuals, Request for Proposal, Software and Website Localization, Technical Aerospace Manual, Technical Aerospace Presentations, Technical Manuals, Technical Specifications, Telecommunications Manuals, Tenders, Training Devices, Training Materials, Websites, Websites, White Papers, Work Procedures and Contracts and many more.
Turqualist is a strong brand and we hold an aptitude, we stand for something. And this is Turkish translation service. We deliver professional Turkish translation service for English to Turkish as well as from Turkish into English languages. We can in addition translate from more than fifty other languages, including German, French, Italian, Spanish, Polish, and many more, into Turkish language. In fact, Turqualist is the single translation office within the global translation world which can utterly translate from Turkish to any language, and vice-versa.
Aviation Translations by Harmonious and Elegant Turkish Translators
First-class professional Turkish language services prepared for your company
Translation into Turkish is a very valuable plus you can get when your business aims to perform in the Turkish marketplace. Do you need your company to succeed in the Turkish marketplaces? Extent of business in the Turkish markets will supply the benefits you desire. At Turqualist, our Turkish aviation translation experience can drive your global presence toward significant and unexplored extents. If your enterprise has formerly a representation in Turkish speaking marketplaces, you may no doubt be dealing with tasks in Turkish. Hence, it is valuable for the preservation of your business interests that your selected Turkish translation provider has ability to show off necessary skill for the Turkish aviation branch of business. Provided your business is looking to penetrate in Turkish speaking markets, there will very likely be clutches that Turqualist's accurate and complete aviation translation to and from Turkish can back up your company to jump. Turqualist's perfect translations from and into Turkish are delivered by an effective group of certified, and renowned Turkish language professionals.
At Turqualist, we surely love that, as you look back at a piece of Turqualist's thoroughly satisfactory Turkish language services, a tremendous piece of service seems extremely a piece of cake. It's explicit, as it fits the purpose of the clients. And though it may completely seem smooth, reaching this point asks for work, protection, spirit, intellect and, unquestionably, that thing quality grants: proficiency. For further information about our conscientiously correct aviation Turkish translations and interpreting service, contact Turqualist by sending an email to info@turqualist.com or use the price quote form and we will return within 30 minutes.
Well-known and Successful
To deliver correct, graceful and elegant aviation translation services from and into Turkish for our diverse clients' projects, we just make use of specialized Turkish language professionals with broad topic competence and a thorough understanding of common aviation terminology.
Remarkably Clever
See why Turqualist is the favourite Turkish translation partner for well-established companies for correct, neat aviation translation into Turkish, backed by rigorously selected and elegant aviation Turkish linguists in this branch of industry.
Talented Human Translations
We have the power to handle immediate, first-class translations from and to Turkish and expelled supply for your instant Turkish translation tasks and can keep pace with almost any time limit, no matter how narrow.
Who trust our Turkish aviation translation services?
With wide experience in aviation translation services to or from Turkish, easy to see why Turqualist has been the choice for worldwide businesses appearing in a full array of business sectors.
Aviation Translation Services to and from Turkish
Turqualist will be your clear tone of voice in Turkish
At Turqualist, your Turkish translation task will be performed by an elegant Turkish linguist who is well-versed in the source and destination languages of your content and at the same time, is familiar with the related business field. Our translation service to and from Turkish are relied on by the blue-chip brand names throughout the world.
Our high-ranking bunch of talented human Turkish translators in the aviation industry have elaborate experience in versatile fields of the aviation industry. Turqualist's practice in Turkish translation, localization and interpreting services is the choicest, then get in touch with us right away to learn in which way we can start to help you break down Turkish language hindrances between your brand and your clients. We are a precise provider of truly accurate translation to or from Turkish.