Turkish Financial Translation Services
Your reliable partner for Turkish financial translations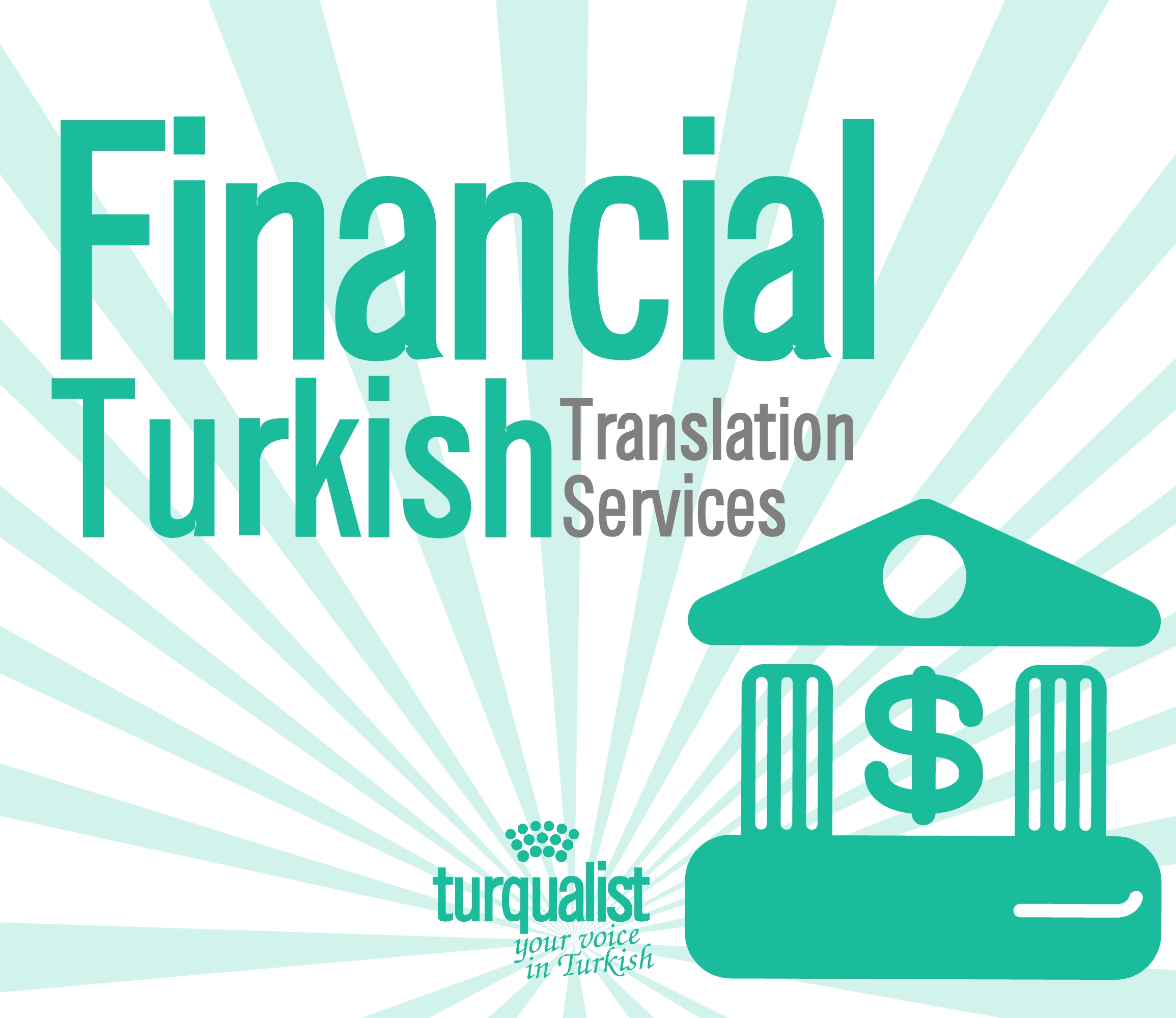 World is getting surely a huge village. Business opportunities in Turkish speaking markets are even big, yet the challenges for conveying your message in Turkish are considerably complicated resulting from various rules in Turkish speaking markets throughout the world. Therefore, you must have a Turkish translation solutions partner who differentiates how Turkish language matches your business activities. We offer a wide array of Turkish financial translation services to assist our customers connect with new markets in Turkey.
Turqualist is a Turkish financial translation services supplying agency with an established prestige throughout the world. Turqualist's effective crowd of Turkish translators in the finance business line have remarkable skill in various subject areas of the financial industry. Our Turkish language professionals not only comprehend the financial field, they also have powerful excellent backgrounds in assisting businesses worldwide.
Call us today at
+00-90-212-385-0092

or Email us at

info@turqualist.com

Looking for qualified Turkish translators interested in long term collaboration, with experience in
banking and financial translations from and into Turkish? Get a quote
Turqualist extends the hand to many firms in the financial domain, communicate with the Turkish marketplace and thousands of more customers by conveying their messages from or to Turkish. We support businesses of no matter how large or small succeed in achieving the Turkish readers using our exceptional Turkish translation and localization service.
Turkish Translation for the Financial Sector
Professional Turkish financial translations for your business
Do you wish your business to display in Turkish speaking markets? Making your presence felt in Turkish speaking marketplaces will yield the benefits you desire. Our Turkish financial translation experience can drive your worldwide business into impressive and uncharted lands. Assuming your business has by now a presence in Turkish speaking markets, you may possibly be managing campaigns in Turkish language. So, it is vital for the stability of your company profits that your preferred Turkish translation partner can show specialized knowledge in the Turkish financial business area. Supposing your enterprise is looking to enter into the Turkish marketplaces, there will probably be hard times that our financial translations from and into Turkish can serve your company to overcome.
To deliver accurate financial translation service into Turkish to our global customers' projects, we only employ knowledgeable Turkish translators with real topic competence and a profound understanding of relevant financial terminology. We have wide experience and knowledge in translating documents such as annual reports , audit reports , balance sheets , customer correspondence , disclosure agreements , financial statements, income statements , investment reports , key investor information documents, press releases , prospectuses , SEC materials , shareholder and investor newsletters , tax reports, codes of conduct, M&A due diligence, internal communications, financial papers, bond & equity prospectuses, fund fact sheets, UCITS documentation, requests for proposals (RFPs), risk and compliance, corporate communications, insurance documentation and many more.
Our practice in professional Turkish financial translation services is the most outstanding, so reach Turqualist now to see how we can start to assist you break down Turkish language threats between your company and your customers.
Brilliant Turkish Financial Translation
Enabling the delivery of your Turkish financial translation projects
The valuable financial brands trust us to lead them in mastering the problems of penetrating into the Turkish marketplace. All our Turkish translation experts are designated for Turkish language projects based on your individual demands. They only translate into their mother Turkish language to guarantee your translations read naturally and relay your information just as you had typed them yourself.
Turqualist has provided Turkish language services for the financial industry for over a decade, constructing excellent collaborations with many clients. We are known as Turkish language translation experts for the financial business area and very happy working with giant clientele globally in many Turkish translation tasks of this domain.