Turkish Marketing Translation
Top-class Turkish translations for the marketing sector.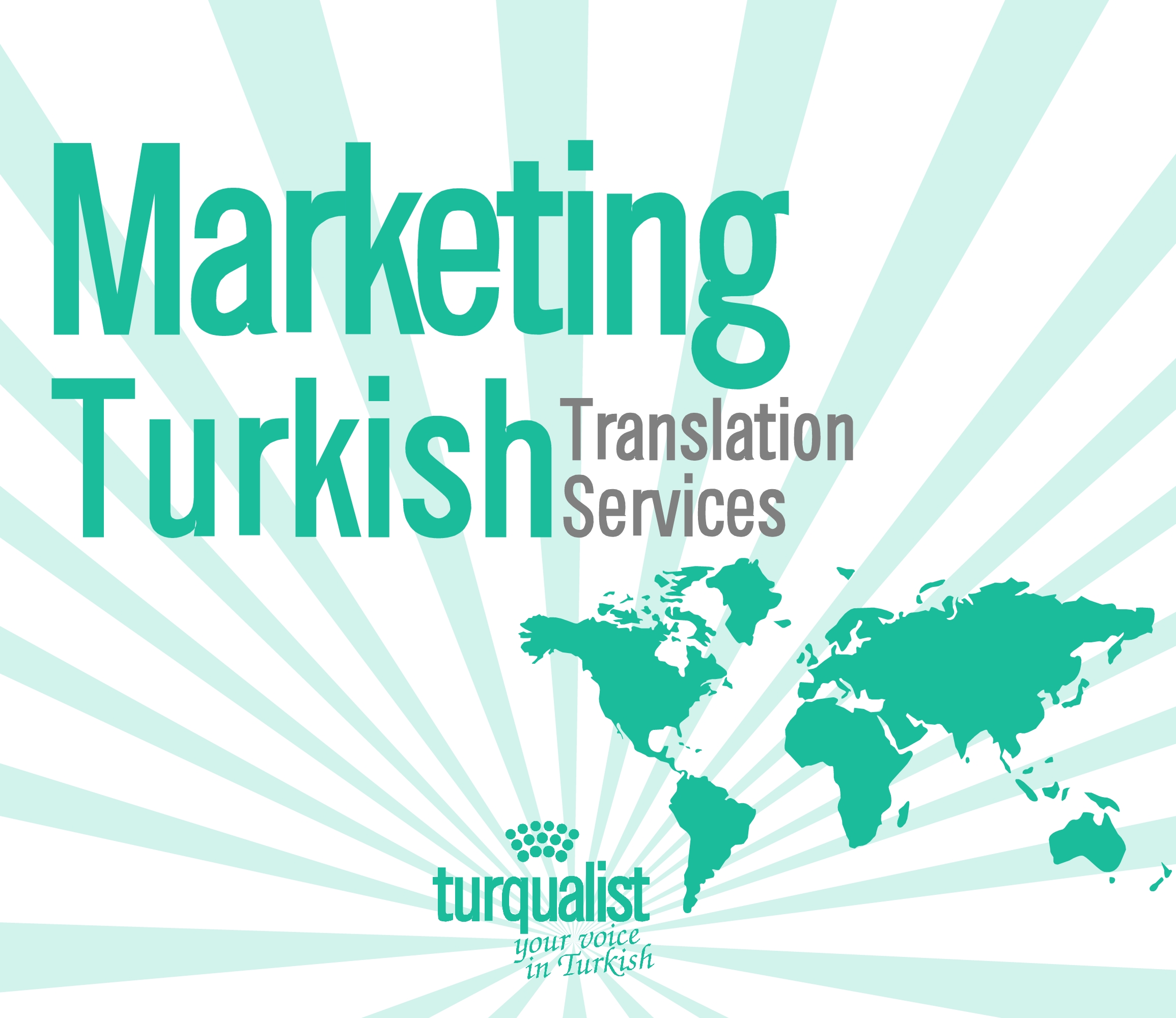 With wide experience in translation services to or from Turkish, not surprising Turqualist is the pick for worldwide businesses appearing in a huge array of industry areas. Our foremost group of Turkish language professionals for the marketing branch of business have widepsread skill in diverse subject fields of the marketing industry. To deliver first-class marketing translation service to and from Turkish for our global customers, we only ever employ specialized Turkish translators with solid topic of knowledge and a perfect insight of current industry terminology.
Turqualist is a Turkish translation and interpreting services providing partner with an enviable position throughout the world. All our Turkish language translators are designated for translation projects depending on your characteristic demands. They only work into their mother Turkish language to ensure your translations read naturally and relay your ideas as if you had produced them yourself. Our Turkish linguists not only know the marketing sector, they at the same time have capable experienced qualifications in supporting companies and individuals. Some of the big-name marketing firms place confidence in Turqualist to help them in mastering the problems of penetrating into the Turkish marketplace.
Call us today at
+00-90-212-385-0092

or Email us at

info@turqualist.com

Currently recruiting a Turkish native speaker for the translation of a marketing publication into Turkish language?
Turqualist is the right choice. We are looking forward to hearing from you! Get a quote
Turqualist has the power to accomplish prompt translation from and into Turkish and swift delivery for your instant Turkish translation projects and can meet almost any time limit, no matter how narrow. Broad experience in marketing translation to or from Turkish has equiped Turqualist with absolute knowledge in this industry sector.
Turkish Translation Experts
Leading supplier of marketing translation service to or from Turkish
With Turqualist, your Turkish translation order will be handled by a talented Turkish language professional who is proficient in both the original and destination languages of your material and with that said, is expert in the marketing industry area. We serve the big-name marketing companies communicate with the Turkish marketplace and thousands of profitable customers by translating their official messages to Turkish.
Our specialism in professional Turkish marketing translation services is the finest, so reach us right away to find out how we can be helpful to you avoid Turkish language threats in between you and your target clients.
Experience in Turkish Marketing Translation
Leading global enterprises speak the language of their prospective customers
Turqualist's translations to and from Turkish are relied on by well-known international brand names worldwide. As Turqualist, we are an able, motivated and ambitious Turkish language solution partner all around the world, with bright existence over Europe, Asia and Americas. We have adequate expertise in translating written content such as press releases, promotional literature, email campaigns, business cards, product catalogs, corporate brochures, product data sheets, advertisements, company presentations, corporate websites and many more.
Our translations into Turkish are delivered by a prominent group of skilled, and distinguished Turkish translators. Translation to Turkish is the most precious plus you can have if your company intends to perform in the Turkish market. We extend the hand to brands of no matter big or small make contact with the Turkish readers through our exemplary Turkish marketing translation service.
Hassle-free deliveries
Turqualist has worked with the marketing business line for over a decade, establishing strong partnerships with giant companies. As Turqualist, we are accepted as Turkish translators in the marketing industry and we are very proud of working with many businesses worldwide in diverse Turkish translation tasks in this business area.
We can help you
We deliver a wide array of language services in order to assist you contact with the Turkish market. Our Turkish linguists are drafted for their extensive perception of the special terminology and have native fluency in the target language.
Smooth and efficient
Find out why we are the picked Turkish translation partner of renowned brands for meticulous, agile marketing translations into Turkish performed by the most rigorously selected and authorized marketing Turkish professionals in this line of business.
Who trust our Turkish marketing translation services?
For more information about our excellent marketing Turkish translations and interpreting services, reach us by sending an email to us or fill in our quote form and we'll return within 30 minutes!
Professional Marketing Translation to and from Turkish
We make possible the supply of your Turkish marketing translation projects
Do you want your company to bloom in Turkish speaking markets? Making an impression in the Turkish marketplaces will deliver the earnings you pursue. Our Turkish marketing translation craft can move your worldwide existence into interesting and new lands. Assuming your business has a representation in Turkish speaking marketplaces, it may doubtless be leading firms in Turkish language. Therefore, it is valuable for the success of your company interests that your favourite Turkish language services provider holds ability to present special awareness for the Turkish marketing business line. Supposing your enterprise is looking to expand in the Turkish markets, there will no doubt be clutches that our Turkish marketing translation services to and from Turkish can back your company to avoid.