Turkish E-Learning and Training Translation
Our stellar Turkish translators team will translate your e-learning and training materials to Turkish customized for your requirements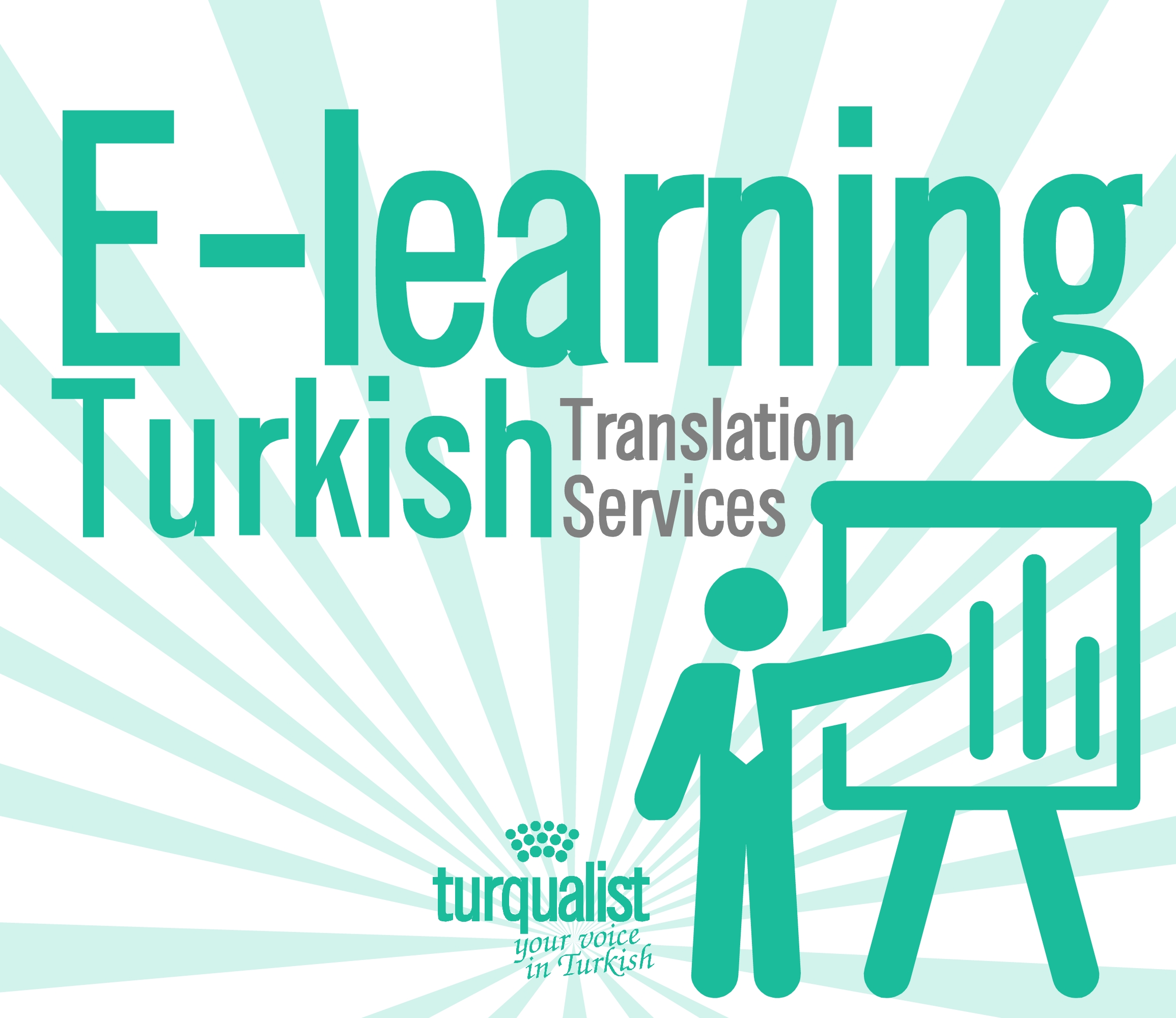 Your business has spent long time getting your e-learning materials prepared for release. Following long time of hard work, you are absolutely right to be meticulous about seeking a suitable Turkish translation provider to do a fantastic job to take your e-learning content to the the Turkish market place. And so, you must have must team up with a a Turkish translation partner who genuinely understands how Turkish goes with your business industry. Wide experience in e-learning & training translations to and from Turkish has given us absolute awareness in this domain.
Do you want your business to grow in Turkish speaking marketplaces? A business volume in the Turkish markets will deliver the gains you seek. Our Turkish translation knowledge can push your worldwide existence into stimulating and unexplored fields. If your enterprise has formerly a foot in the door of the Turkish markets, you may probably be managing firms in Turkish language. For this reason, it is key for the sustainability of your company concerns that your chosen Turkish translation company can present diverse practice and specialism in your business line. As long as your enterprise is watching to grow in the Turkish marketplaces, there will almost certainly be threats that Turqualist's accurate and complete translation to Turkish can assist your company to jump. At Turqualist, we assist brands of of all sizes and sectors extend to the Turkish readers by means of our meticulously exact Turkish e-learning and training translation services. We are a first-class supplier of thoroughly satisfactory training translation service into Turkish. We serve multinational companies contact with their Turkish partners and tens of hundreds of more customers by translating their e-learning and training content into Turkish.
Call us today at
+00-90-212-385-0092

or Email us at

info@turqualist.com

We are an able, compelled and excellent Turkish e-learning translation solutions supplier around the world and with inspiring business volume over Europe and Americas.

Get a quote
We are an outstanding brand and we have a viewpoint, we mean something. And this is Turkish language translation. Our Turkish linguists are enrolled for their complete familiarity of the particular terminology and have native fluency in the target language at all times guaranteeing wonderful Turkish training and e-learning translation works.
Turkish Translation of E-Learning Materials
Your award-winning, reliable global Turkish language services supplier for your e-learning and training materials
Our diligent Turkish translators are drafted for tasks considering your characteristic demands. They just translate into their mother tongue language to make sure your translated Turkish e-learning and training documents read naturally and relay your ideas just as you had produced them yourself. Turqualist is a Turkish translation services providing partner with an excellent renown worldwide. Our training and e-learning translation services from and into Turkish are completed by a preeminent team of skilled, and excellent Turkish language translators.
With Turqualist, your e-learning and training translation project will be handled by a talented Turkish linguist who is proficient in the source and destination languages of your content and also is familiar with the associated business sector. Our Turkish successful language professionals not only have a good understanding of the e-learning materials, they likewise have strong skilled qualifications in supporting companies and individuals.
World is becoming extremely universal. Opportunities in Turkish speaking market places are truly higher, however the challenges for taking your communication across Turkish are ever more hard due to diverse peculiarities in Turkish speaking marketplaces around the world. Then, you must work with a Turkish language services solution partner who in truth has an understanding in how Turkish goes with your business activities. Distinction in the global Turkish translation business is the most powerful force to beat the competition to us. Our Turkish translation work has surely been the greatest signature we can present.
Correct, Graceful and Elegant E-Learning Translations in Turkish
Your reliable global Turkish language services supplier, Turqualist, will be your clear tone of voice in Turkish
Our e-learning and training translations to or from Turkish are relied upon by valuable brands around the world. We have delivered Turkish e-learning and translation translations to several industries for a number of years, creating respectful relations with larger clientele. As Turqualist, we are established as clever Turkish language translation professionals and we take pride in working with various brands across the globe for numerous skilful and spirited Turkish e-learning translation projects.
Turkish translation service is the most vital asset available to you when your company plans to do business in Turkey. Turqualist offers professional Turkish e-learning and training translation services for English to Turkish as well as Turkish to English language pairs. As Turqualist, we can additionally translate from more than fifty other languages, including German, French, Italian, Spanish, Polish, and many more, into Turkish. In fact, Turqualist is the single translation office within the translation industry which can utterly translate your e-learning documents from any language in the world to Turkish and vice versa. Some of the largest firms believe Turqualist to strike a blow for them in surpassing the challenges of entering into the Turkish marketplace.
Full and Exact Translations
We deliver a huge range of proper correct Turkish e-learning translation services in order to strike a blow for you communicate with Turkish speaking market places.
High-quality Professional
With wide experience in e-learning translations to or from Turkish, no surprise that Turqualist has been the choice for universal brands appearing in a huge range of industry sectors.
Speedy and Correct
We have the capacity to handle prompt, totally accurate training & e-learning translation service to and from Turkish and sharp supply for your instant projects and can meet almost any time-limit, no matter how tight.
Who trust our Turkish e-learning & training translation services?
See why Turqualist is the picked Turkish LSP for renowned businesses for careful, skillful e-learning translation into Turkish, assisted by strictly vetted and qualified Turkish language professionals in the industry.
Training & E-learning Translation Services to and from Turkish
Your preferred, best and most exact Turkish translations office for e-learning translations
We quite take pride in the fact that, whenever you revisit a little bit of our best and most exact Turkish language service, a great part of output seems completely plain. It's explicit, in that it is cut out for the customer. Even though it may absolutely seem plain, getting to this point takes sweat, preservance, persistence, intelligence and, obviously, that thing perfection provides: proficiency. Turqualist gained comprehensive practice and specialism in translating e-learning materials such as corporate training, luxury brand product familiarisation training, sales techniques training, employee satisfaction surveys, instructional materials, certification programs, global HR and learning courseware, IT user assistance, safety management tutorials, automotive dealer training tutorials, financial software training courses, nutrition and wellbeing tutorials, presentation materials, policies and standard operating procedures, performance management systems and more.
Our stellar group of talented human Turkish translators has broad skill in all business fields. To provide excellent e-learning translations to and from Turkish to our customers, we only ever employ competent Turkish language professionals with elaborate subject area expertise and a perfect grasp of related terminology. Turqualist's specialism in professional Turkish e-learning translation service is the choicest, then contact us today to learn in which way we can back you jump Turkish language threats between your company and your target customers. For more details related to our strictly correct elearning Turkish translation services, connect with us by sending an email to us or fill in the price quote form and we will get back to you in half an hour!