Certified Turkish Translation
Your first-class, absolutely clear certified Turkish translation services provider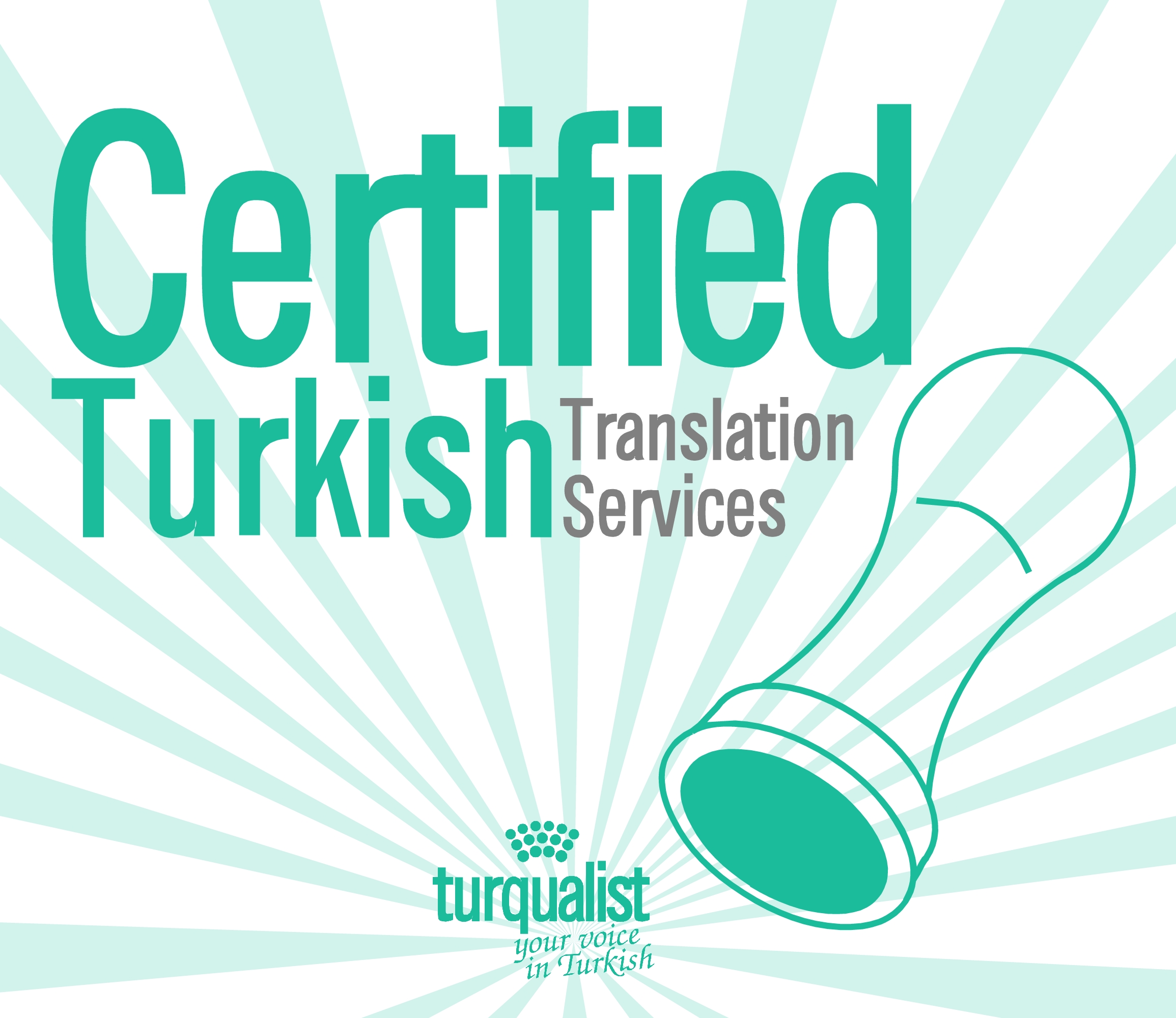 Turqualist is a reliable brand and we have a perspective, we produce something. And that 'something' is Turkish translation service. Our specially ingenious certified translations from and into Turkish are completed by a powerful team of skilled, and native Turkish professionals. Status in the global Turkish translation business is the most powerful hero in competition for us. Our Turkish translation works have pretty been the incomparable identification we could give.
Translation to Turkish is the most powerful plus you can get if your brand hopes to succeed in Turkish speaking market places. We provide a wide array of equally excellent certified Turkish translations to put support behind our clients communicate with the Turkish market place. With proven reputation in certified translation services to and from Turkish, it's no surprise that we're the decision for worldwide clients showing up in an extended array of industry segments. Proven track record in certified translation from and to Turkish has equipped us with diligent expertise. All our matchless Turkish translators are chosen for translation projects considering your characteristic requests. They only ever work into their mother languages to guarantee your translations look as good as they read and transfer your ideas just as you had written down yourself.
Call us today at
+00-90-212-385-0092

or Email us at

info@turqualist.com

We are a global supplier of totally accurate certified translation from and to Turkish

Get a quote
Leading global brands rely on us to strike a blow for them in surpassing the obstacles in entering into the Turkish marketplace. We are an accomplished, energetic and noble Turkish certified translation provider across the globe and with remarkable existence over Europe, Asia and Americas.
Truly Accurate Certified Translations
Our professional certified Turkish translation services connect people
Our world is turning into extremely global. Opportunities in Turkey are undoubtedly higher, but the hindrances of conveying your communications in Turkish are extendingly complicated arising from diverse manners in Turkish speaking marketplaces throughout the world. For that reason, you must have a Turkish translation partner who definitely has an understanding in how Turkish language matches your business activities. With us, your certified Turkish translation order will be handled by a careful Turkish linguist who is well-versed in both the source and destination languages of your material and with that said, is familiar with the associated industry area. To provide strictly correct certified translation from and into Turkish to our customers' projects, we solely use skilled Turkish translators with broad content competence and a profound comprehension of accurate terminology.
We provide professional Turkish certified translation service for from English to Turkish as well as from Turkish to English language pairs. We can also translate from over 50 other languages, including German, French, Italian, Spanish, Polish, and many more, to Turkish. Actually, Turqualist is the unique translation company in the translation market which can perfectly translate from any language in the world to Turkish and vice versa.
We are a strong brand and we hold an aptitude, we stand for something. And this is Turkish translation service. We deliver professional Turkish translation service for English to Turkish as well as from Turkish into English languages. We can in addition translate from more than fifty other languages, including German, French, Italian, Spanish, Polish, and many more, into Turkish language. In fact, Turqualist is the single translation office within the global translation world which can utterly translate from Turkish to any language, and vice-versa.
Highly Commendable Certified Translations by Highly Skilled Turkish Translators
First-class Turkish certified translation services to elevate your business get greater goals
Your business has plugged away for years and years getting your product available for market place. Following long time of travail, you are absolutely right to be scrupulous about selecting a suitable Turkish translation provider skillful to do the excellent job to bring your product to your target group in Turkish speaking markets. For this reason, you should have should team up with a a Turkish language services provider who truthfully has a good understanding in how Turkish fits into your business. Our certified translations to and from Turkish are trusted by valuable businesses all over the world.
Do you need your company to display in Turkish speaking market places? Making an impression in the Turkish markets will deliver the gains you desire. Our Turkish translation understanding can thrust your local presence to interesting and new fields. Assuming your enterprise has by now a representation in Turkish speaking marketplaces, you may doubtless be taking care of campaigns in Turkish language. So, it is important for the success of your company profits that your favourite Turkish translation partner has ability to raise solid experience and knowledge in your business field. Provided your business is looking to enter in Turkish speaking market places, there will probably be obstacles that our skilful and spirited certified translations into Turkish can back your company to jump. Our experience in professional certified Turkish translation service is the most outstanding, then reach Turqualist now to see how we can back you avoid Turkish language threats in between your company and your target customers.
Profoundly Skilled Translators
Our skilled Turkish translators are chosen for their in-depth expertise of the specialized terminology and have native fluency in Turkish language at all times assuring perfectly satisfactory certified translations.
Harmonious and Elegant
We put support behind the major-league brands reach out to Turkish speaking market places and millions of profitable customers by translating their corporate messages from or to Turkish.
Speedy and Correct
We have the ability to accomplish speedy certified translation service to Turkish and swift supply for your urgent projects and the capacity to keep pace with almost any time limit, no matter how tight.
Who trust our certified Turkish translation services?
For more details about our complete and adequate certified Turkish translations, contact us by sending an email to info@turqualist.com or complete our quote form and we'll answer in half an hour!
Certified Translation Services to and from Turkish
If your business is searching for a first-class Turkish certified translation support, we are here to assist you
We have translated for a wide range of business lines for over 10 years, establishing mutually beneficial cooperations with blue-chip brands. We are famous as skilled certified Turkish translation experts in a lot of business areas and we pride ourselves on working with big-name brands around the world in numerous accurate certified Turkish translation tasks.
We are a Turkish language services solutions agency with a splendid distinction around the world. We surely enjoy that, when you bring to mind a bit of our admirably precise certified translation service, a great part of output appears completely easy. It's obvious, because it fits the purpose of the customer. And though it may all appear smooth, getting to that place requires toil, maintenance, diligence, capacity and, naturally, that thing perfection gives: professionalism. Discover why we are the preferred Turkish translation solutions partner of well-established companies for correct, neat certified translation services to Turkish, rendered by purely vetted and qualified Turkish language translators.